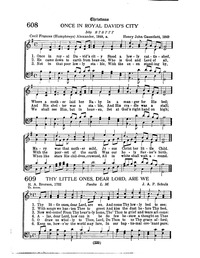 Author: H. A. Brorson; Anon.
Hymnal: American Lutheran Hymnal #609 (1930)
Meter: 8.8.8.8
Topics:

Carols

and

Spiritual Songs

Christmas
Lyrics: 1 Thy little ones, dear Lord, are we, And come Thy lowly bed to see; Enlighten ev'ry soul and mind, That we the way to Thee may find. 2 With songs we hasten Thee to greet And kiss the dust before Thy feet, O blessed hour, O sweetest night, That gave Thee birth, our soul's delight. 3 Now welcome! From Thy heav'nly home, Tho' Thou to grief and tears art come: Man has on earth for Thee no room Save stable, manger, cross and tomb. 4 Alas, dear Lord, how can it be So few bestow a thought on Thee Or on the love, so wondrous great, That drew Thee down to our estate? 5 O draw us wholly to Thee, Lord, Do Thou to us Thy grace afford; True faith and love to us impart, That we may hold Thee in our heart. 6 Keep us, howe'er the world may lure, In our baptismal cov'nant pure; That ev'ry yearning tho't may be Directed only, Lord, to Thee. 7 Until at last we too acclaim, With all Thy saints, Thy glorious name; In Paradise our songs renew And praise Thee as the angels do. 8 We gather round Thee, Jesus dear, So happy in Thy presence here; O Savior, grant us this alone, To stand in heaven before Thy throne.
Languages: English
Tune Title: PAEDIA
Thy Little Ones, Dear Lord, Are We